Lisa Nicolosi Photography
Wolffer Estate Vineyard Wedding Photography
This romantic wedding photo was taken at the Wolffer Estate Vineyard in Sagaponack NY during the couple's "first look".
I love the passionate emotion in their kiss as well as the bride's stunning bouquet.
Whenever a wedding has both the ceremony and reception at one location, I recommend doing a "first look."

This allows all the photography to get done before the ceremony. And I have never has a bride claim that it diminished the power of walking up the aisle.
Furthermore, not only is doing all the photography during the cocktail hour rushed - it is anti climatic. The last thing that you will want to do when you recede your ceremony is start a "photo session."
Rather, you will want to hug your friends and family, have a cocktail, enjoy some delicious food, relax and be present at your party.
Benefits of a First Look
You can attend and enjoy your cocktail hour
Spend time with your guests that have traveled to celebrate with you
You as a couple have a private moment to each other before the frenzy starts
More time to take photographs than a mere 1 hour cocktail party which is insufficient to properly document family formals, bridal party and bride and groom portraits
Your photos will be more creative as we will have more time and you as a couple will be more relaxed - which will show in your facial expressions and body language.
Here a couple of more images from this wedding:
First one, the bride is choking back tears as she walks up the aisle - her first look did not eradicate her emotions nor diminish the power of this moment.
Second image: The Pronouncement! Pure happiness! Time to celebrate! Now you can grab a cocktail and hug your family because the pictures are done!!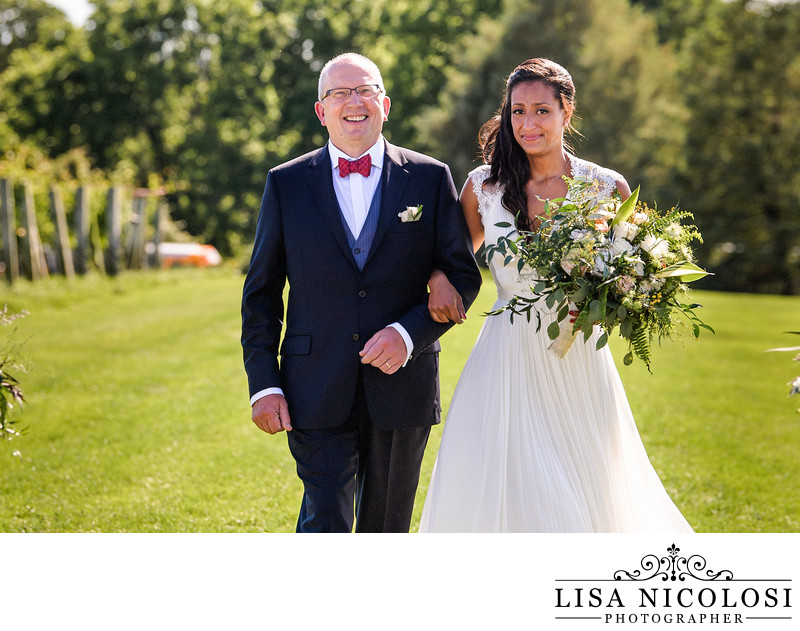 Location: 139 Sagg Road Sagaponack, New York 11962.