Lisa Nicolosi Photography
Best Montauk Wedding Photographers
If you are searching for the best Montauk wedding photographer to capture your Montauk nuptials, I would love for you to get in touch with me.
Living in Babylon, Montauk is within close proximity to me.
I have photographed several weddings in Montauk at various venues such as: Gurney's Star Island (formerly known as the Montauk Yacht Club), Gurney's Resort and Seawater Spa, 360 East at Montauk Downs, Montauk Lake Club, Montauk Manor, and the Montauk Lighthouse.
Montauk is a truly a magical setting for a wedding. Whether you live on Long Island or are planning an East End destination wedding.
This wedding photo was taken at the historic Montauk Lighthouse, which is a cherished Long Island landmark.
I was thrilled when this bride and groom contacted me to photograph their wedding ceremony at the base of the lighthouse!
What made this wedding even more special is that the bride Kelsey is from Montauk! After the ceremony, we walked around the grounds of the lighthouse which made for many stunning photo opportunities with spectacular backdrops, sheer out of a fairytale.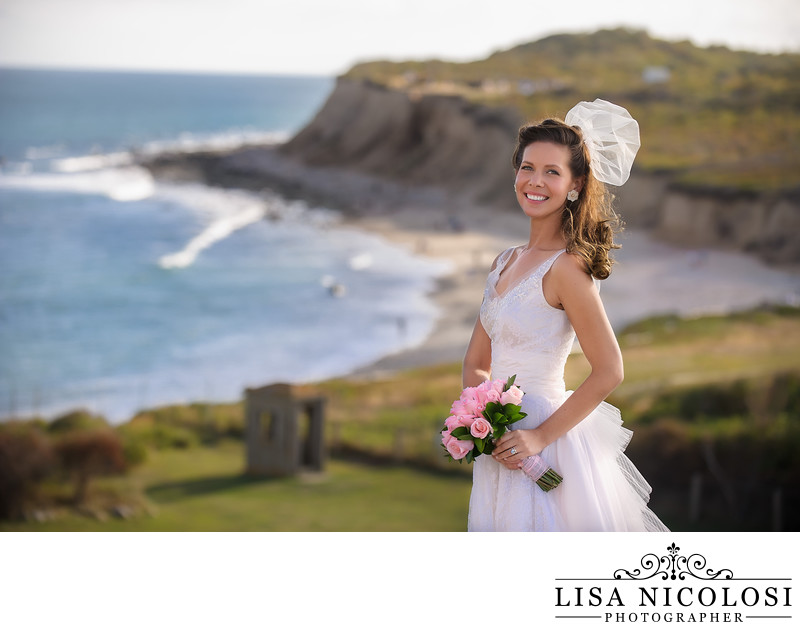 We did not have a lot of time for photos so I made use of even their walking to create photos as we moved around the grounds. This photo showcases the detail of the back of Kelsey's wedding gown as it blows beautifully in the wind. We can also see her "something "blue", being her wedding shoes peeking through the bottom of her gown as her groom helps her ascend the hill. All whilst including the iconic Montauk Point Lighthouse in the background.
More of this wedding can be seen on my blog post here.
If you are a lover of all things nautical, Montauk is your town. Even if you do not have your ceremony on the Lighthouse grounds like Kelsey and Greg did, consider it for your engagement session or as a pitstop for wedding photos.
Planning some time to take your wedding photos at the lighthouse or Camp Hero State Park would be a fabulous way to incorporate this beloved lighthouse with its distinctive brown and white stripes that sits on the easternmost point of Long Island.
I would love to speak with you about your Montauk wedding! And I would love to be your wedding photographer!
Here is a list of Montauk venues to consider when planning your Montauk wedding:
Montauk Yacht Club
Montauk Gurney's Resort and Seawater Spa
Montauk Gurney's Star Island Resort (formerly known as Montauk Yacht Club)
Navy Beach
Sole East Resort
Montauk Manor
Swallow East
360 East at Montauk Downs
Montauk Lake Club
Location: Montauk Point State Park, 2000 NY-27, Montauk, NY 11954.