Lisa Nicolosi Photography
Best Coindre Hall Long Island Wedding Photographer
Did you recently become engaged? Are you looking for the best Long Island wedding photographer at Coindre Hall? Coindre Hall is an outstanding choice and I would love to be considered to be your wedding photographer there.
I want to share with you my recent experience of working at this special venue.
When this bride and groom hired me to photograph their wedding at Chateau at Coindre Hall I was so excited and grateful!
This medieval style mansion, located in Huntington; NY, circa 1912 had been on my wedding wish list for quite some time. It is gorgeous and it looks like a fairy tale!
Prior to the wedding I visited Coindre Hall for a walk through to scout out it's interior and grounds. This was very helpful to me in preparation of photographing the actual wedding.
I observed the way the light was falling, planned out how I would place my lighting for the reception segment and mapped out a course of where to take bride and groom portraits and the family formals.
I love nature and architecture and I love to incorporate them in my photography.
This bride and groom portrait in front of the mansion showcases their wonderful choice of a wedding venue which is also a national historic landmark.
There are so many niches to work with inside and out at Coindre Hall, from the grand front facade to the spiral staircase, many fireplaces, the surrounding grounds and view of Huntington Harbor.
If you are looking to choose a venue for your wedding that is not your typical catering hall or one that is not your your typical Long Island wedding factory then I highly recommend Coindre Hall.
Coindre Hall only hosts one wedding at a time and one wedding per day.
Another benefit to this venue is that there are separate bride and groom getting ready suites.
This simplifies your planning allowing you to have your entire wedding day occur in one place.
Nobody likes to think about rain on their wedding day, but if it should rain; you have a built in backup plan so we can create beautiful photos inside the mansion.
As seen here of this staircase portrait: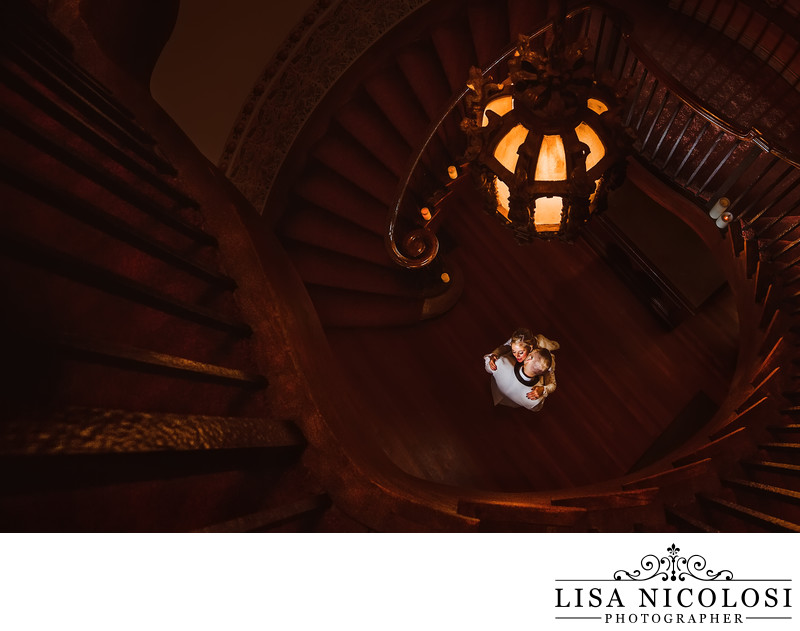 And this Coindre Hall bride, Christina; left me a 5 star review:
"How do I even begin to describe working with Lisa! Lisa is an incredibly talented artist and an absolute pleasure to work with! From the very beginning Lisa was patient, kind, and extremely organized. She kept in touch with me throughout the entire process and was always happy to answer all of my questions. This was so important to me because I was planning this wedding from out of state. Lisa was able to meet with me when I was in town and she was always available if I had any questions via email or over a conference call. The ease of process, was extremely important to me and she was perfect.
Prior to the wedding, Lisa took time out of her busy schedule to visit my venue to get some ideas for photos! On the day of the wedding, her and her partner were wonderful! They were patient, efficient, polite, happy, and prompt! And because of this, everyone looked relaxed! Every photo turned out beautifully! She coached us throughout all our shoots and made us look so natural and effortlessly happy! She exceeded every expectation!
Post Wedding: Lisa met every single timeline she quoted for us!!! This was awesome! I am so glad we were able to work together on my wedding day and I could not be more grateful for having her capture every moment. "
I also want to mention that their banquet manager John Schlenke is genuinely kind, down to earth and the utmost professional person that you would love to work with.
If you are considering Coindre Hall, I would love to be your wedding photographer. Get in touch with me at 631-747-5645 or visit my contact page.
More images from this wedding can be seen on my blog post here.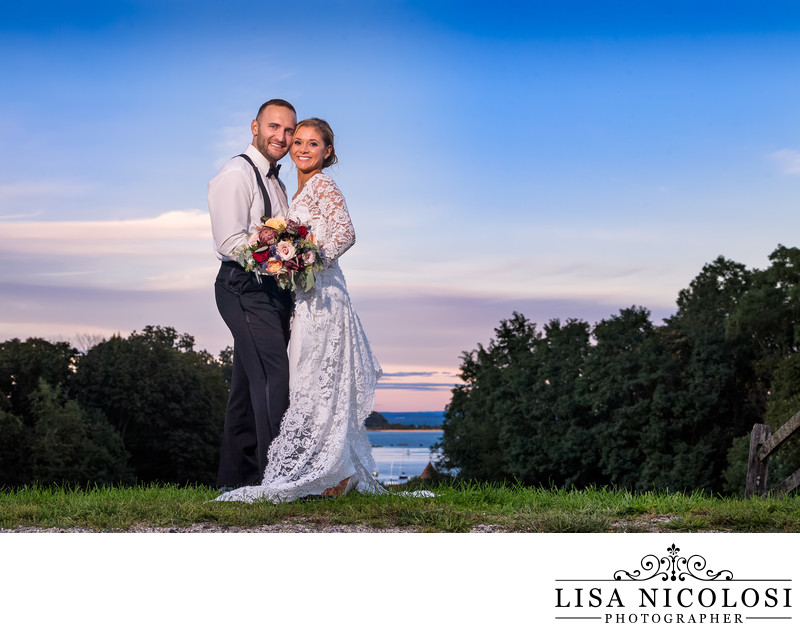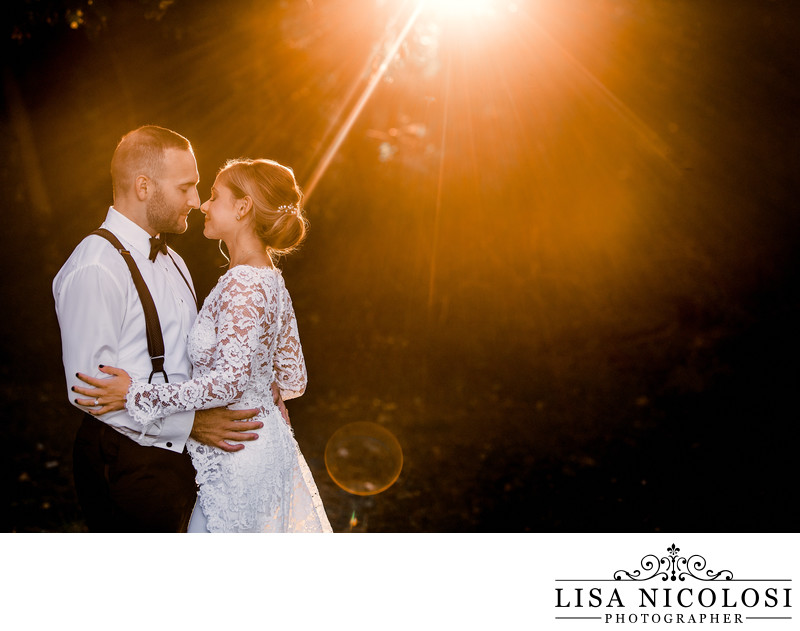 Location: 101 Browns Rd, Huntington, NY 11743.